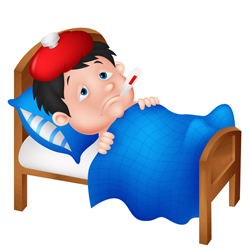 High fever usually means body temperature above 103 C, which could go up to 106 C. The smaller your child, the greater are the complications. So, be always on guard if your child shows symptoms of high fever.
Causes & Impact of High Fever
High Fever is a sign of an illness, infection, or severe imbalance within the body. High fever can cause hallucinations, confusion, and convulsions in some individuals. If not lowered, it can lead to death under serious conditions.
 
What to Do When Your Child is Suffering from High Fever?
You need to be very careful when your child is suffering from high fever. Children often develop feverish conditions due to infections, but when the body temperature goes beyond 102 C, it may get serious too. You must make sure that your child takes enough rest and sleep. Clothe her with light-weight, comfortable garments, and regulate her room's temperature according to her comfort.

Children experience dehydration under such conditions. So, feed them with plenty of soups and drinks (except colas, tea, and coffee) to compensation for the loss of fluids.

You must regularly monitor the body temperature of your child at such times. At times, it is difficult to convince children to cooperate in the process of temperature measurement. If a thermometer is not held correctly for sufficient time, the temperature readings obtained are faulty.

In order to avoid taking faulty readings, Piramal Healthcare has designed a special thermometer that has a laser light at one end. This attractive light captures children's attention, making them stay still till you measure their temperature accurately. There's no smarter way to make health devices more agreeable to the kids!